Georgia Kennedy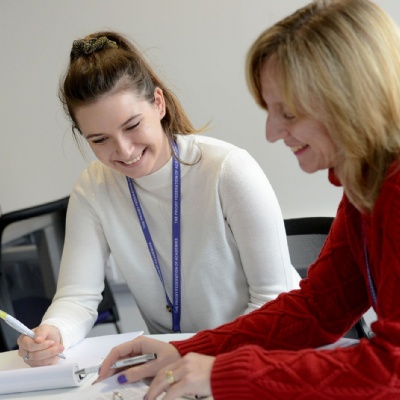 Administration Assistant/Receptionist
I liked the idea that I could earn a wage while still continuing with education. I can also have many different possible progression routes once I have completed my apprenticeship.
It is good if you know what you want to do and if you don't. If you want to go into an apprenticeship sector as a job, you may find an apprenticeship that you enjoy and you could progress quickly within an organisation. If you don't know what you want to do, you can earn money while gaining a recognised qualification and use the time to think about what type of job suits you.
I am currently completing a Level 2 Business Administration apprenticeship. This includes a wide variety of tasks such as printing and copying, preparing documentation, ordering products and services, attending meetings and so on. There does not tend to be a 'typical' day within my particular role.
Since the start of my apprenticeship, I have learned and adapted to business standards and the quality expected from my working environment. I am also more aware of how to handle documents correctly in accordance to policies. Communication is more important than you think in a job in order to let colleagues know the work that you are doing or any problems that may occur that may also affect them.
This has helped me in my career prospects as I never considered doing a 'desk job' as I thought it would be boring, but it is quite varied and enjoyable on most days. I have also been told that I am good at what I do within my role and I would have never known that this is something I was good at until I started my apprenticeship.
Monday 19th March 2018
Every Monday morning I have to send out an e-mail to all of Priory Training's apprentices with this week's 20% off-the-job training form attached and chase up any forms that have not been returned to me from the previous week. This is an important task as this is how we evidence that 20% off-the-job training has taken place and prove to the ESFA that we are delivering the new apprenticeships in accordance with their funding rules.
I also send out another e-mail regarding an apprentice blog, where each apprentice is allocated a week to complete an apprentice blog to show what they do on a day to day basis. This is optional but many apprentice choose to complete this as it counts towards a part their 20% off-the-job training for the week. This then gets published on our website to try and advertise the variation of roles even within the same apprenticeship course, as well as in different apprenticeships.
At the moment I am focusing a lot of my time towards responses gained through questionnaires regarding social media. I had already created the questionnaire and this had been getting given out to the primary and secondary trainees, as they are the target audience for the Lincolnshire Teaching School Alliance's (LTSA) School Centred Initial Teacher Training (SCITT), so that I can alter different aspects of our social media channels to try and target other people of a similar background to hopefully get them to apply to us. As I also run LTSA's and Priory Training's social media channels, I will have to give out the same questionnaires to apprentices and current teachers in order to cover all audiences for the specific brands.
Today I had a few responses from apprentices for outstanding 20% off-the-job training forms from last week, so I have had to input this data onto my spreadsheet. Each apprentice has a page where the dates, times and descriptions of their 20% training is outlines, as well as how many hours they should have each week, the total hours taken, the total hours required and if they are behind or ahead. Some of this data forms a graph on another page so that you can clearly see how far the apprentice is off track or on track.
Tuesday 20th March 2018
As soon as I got in this morning I had to set up for two all day meetings; the paid internship meeting with Lincoln University students was in the conference room and the executive heads away day of all of the academies in The Priory Federation was in the lecture room. Setting up for meetings involved arranging the room so that it is set out presentably and correctly so that there are the required tables and chairs laid out; refreshments have been prepared and are topped up throughout the day; lunch is catered for and set out, if required; and the room cleared away as and when necessary. There may be other requests that will need to be carried out, for example, last week for an AQA English hub meeting I had to photocopy some documents as the original resources had not been delivered to The Keyworth Centre.
Today I also created a spreadsheet for Priory Training so that we could see how many apprentices have attended each session and who has attended which session, from this I could then find out some statistics which can be used for future reference.
Wednesday 21st March 2018
Today I had to prepare scheduled tweets for next week. To do this I write a rough plan so that I can clearly see what I am planning on which day and at which time so that I am not duplicating posts or posting the same content too frequently, after I am happy, I then type these onto Tweet Deck and schedule for the planned date and time. I have to schedule tweets for LTSA, SCITT and Priory Training, which roughly takes 1 hour and a half per department, as well as dealing with requests throughout the day. I do this in case I become too busy during the week to post anything on Twitter, I find that this is a good back up, even if I am not busy, as I can post more which should help to increase the total amount of engagements made.
Thursday 22nd March 2018
On Thursday I had my 20% off-the-job training day, I can choose to work on whatever I feel that I will benefit from, and work that has been set for deadlines. Today I worked on Unit 3, Unit 4 and Unit 9 as these are areas that I had to finish before an end date.
Friday 23rd March 2018
Annual leave.