Sophie Greaves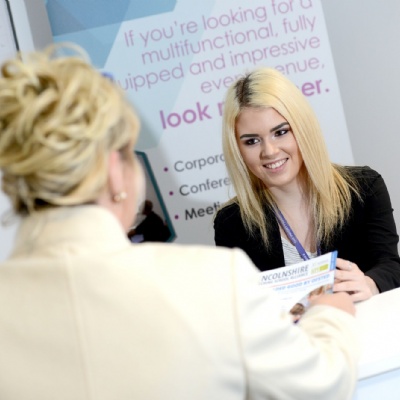 Receptionist
Choosing the apprenticeship route has given me the opportunity to spend time working with people of all ages which has helped me to develop my confidence and communication. I have gained new skills by choosing this route as well having the opportunity to gain valuable experiences. By the end of my apprenticeship I will have another qualification to add onto my CV to help me get to where I want to be in the future.
Monday 4th June 2018
Ill.
Tuesday 5th and Wednesday 6th June 2018
I spent Tuesday and Wednesday at The Priory Witham Academy shadowing their receptionists of both Main school reception and their Primary reception. The purpose of this was for me to gain more experience on a busier reception, and I would get the chance to work in a different working environment. This was very different to The Keyworth Centre as the customers were very different. The Keyworth Centre is a training facility whereas The Priory Witham Academy is more of a school environment. I carried out many tasks whilst I was there, such as signing visitors in, answering phone calls, handling trip payments and complaints, answering customer queries and requests, signing for parcels, taking children to their classrooms etc. My knowledge on customer service and how to deal with diverse situations within different environments and different types of customers has improved massively by being given this opportunity.
Thursday 7th June 2018
All of the apprentices had a delivery session and the aim of the session was to help each one of us with presentations, as the majority of the apprentices will have to do a presentation at the end of their apprenticeship. This was a useful session as some of us had not done a presentation before. The session included some exercises which involved speaking and linking the tone of voice to an emotion. We also did an exercise regarding how our body language comes across to our audience. After our exercises we got into small groups to create a 5 minutes presentation to present in front of the other apprentices. This was to make us all feel more at ease and more confident with having to present presentations.
Friday 8th June 2018
Our SCITT Secondary Trainees were here all day for training, therefore it was important that refreshments were all sorted in the room and that I was on Reception to greet them when they began to arrive. My main priority is making sure each delegate is satisfied with the customer service I deliver. A re-occuring task I do every Friday morning is to create the following weeks 'Staff Information Sheet' and send it to my Line Manager, to add colleagues whereabouts for that week as I don't have access to certain information. Once this is completed I hand this sheet out to each colleague on Monday morning. One of my units that I have to complete is 'Social Media' therefore I worked alongside Georgia last week (during half term) and learned how to scheduled tweets through 'Tweet Deck' and once I was confident, I began to schedule tweets for this current week. Meaning every day of this week I have been monitoring LTSA's Twitter account for any messages or notifications that we may have had.