Laura Davidson Horry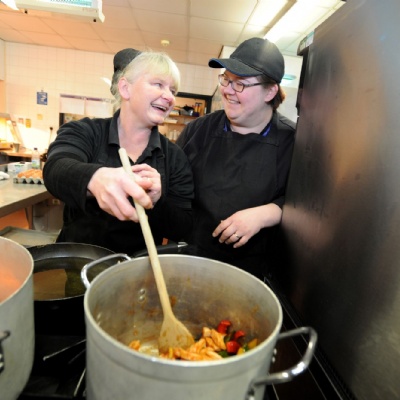 Catering Supervisor
As catering supervisor my week is very structured due to the need to have food available for breakfast, break and lunch, I supervise my team's preparation and cooking while also cooking the specials and regular lunch dishes myself.
Monday 26th February 2018
Alongside the daily cooking duties Monday consisted of ringing suppliers to tweak our orders, also placing an online order with our main supplier. I had a meeting with another apprentice to talk about the team leading apprenticeship.
Tuesday 27th February 2018
I started looking at new Vegan foods available from our suppliers to cater for our growing Vegan clientele, looked through my calendar so I can start to organise my team's individual appraisals.
Wednesday 28th February 2018
The weather has turned so now we have a snow day, I needed to contact my team to make sure they didn't come to work I also need to ring suppliers to cancel deliveries, but the rest of my day was filled with snow angels and snowball fights with my family making memories. Later in the day let team know another snow day on Thursday.
Thursday 1st March 2018
Snow day also call team as snow day Friday too. Do a few hours of work for my apprenticeship.
Friday 2nd March 2018
As the supervisor I am the person needed to go in to sort out the fridges and freezers as the snow days were slightly unexpected the week was catered for as normal, so I needed to sort out any wasted foods and record it on the waste sheet.