Apprentices RAF Cranwell Leadership Day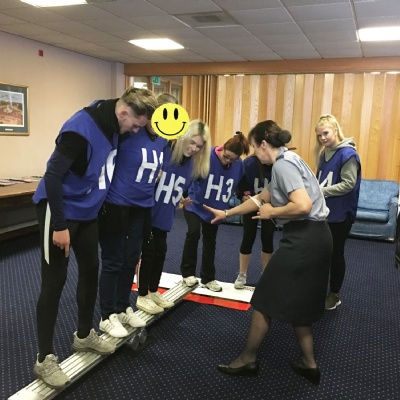 Some of our apprentices came together on Friday 23rd February for some excellent team building activities and to learn leaderships skills at RAF Cranwell.
Apprentices who are completing our Business Administration, Team Leading, Customer Service and IT Professional Competence apprenticeships all attended a leadership day. At Priory Training, we think it is beneficial for our apprentices to meet often to discuss ideas and build good relationships. Friday was definitiely a good example of that! We arrived at Cranwell around 9am and after getting our photos taken for passes, we were escorted to the recruitment candidate's mess. The apprentices were split into two groups of 6 for the rest of the day to complete the activities.
The first activity involved 20 minutes of private working on a written question, the apprentices had to try and solve the problem, come up with a strategy and answer whether it was possible to achieve or not. After the 20 minutes were up, each apprentice had to discuss their thoughts and come up with a solution, if possible, with the rest of the team. They then had to present our idea to the two officers who were with us throughout the day and they had to question their choices to really make them think.
After a quick lunch, the second half of the day included two different activities with and without defined leaders. The leaderless activity that Hotel syndicate completed was an odds and evens challenge. Each apprentice had been given a number in their teams from 1-6 and had been told to stand on one of 7 mats at their corresponding end, either odds or evens, this left one mat in the middle between the two. The challenge was to switch places so that all of the odds were on the evens side and vice versa, BUT they could only move forwards and had to stay facing the position that they started in! After four attempts they managed to crack this and then had to see how quickly they could complete it without talking, the best time with no communication was 32 seconds! The leader led activities were where each member of the group had to understand a brief, converse this to the rest of the team and develop a plan to try and achieve the task. Each member in turn got a chance to try this on different tasks, but some were easier than others due to the complexity of the challenge itself.
Our day finished off with the minibus ride home (and a quick stop off at McDonald's for some hot drinks!).
Overall, I think that all of the apprentice's enjoyed their time at RAF Cranwell and this was an excellent experience for them.