Apprenticeships
Check out our vacancies here

Why Choose an Apprenticeship?

Apprenticeships are structured training programmes which can give you a chance to work (literally) towards a qualification. They help you gain the skills and knowledge you need to succeed in your chosen career.

Getting into employment earlier means there's lots of potential for you to progress in your career quickly. You can also begin to earn a good salary much earlier on in your life.

Apprenticeships give you fantastic experience in the working world and show employers that you can 'hit the ground running'. Hands-on training gives you a real chance to put your skills into practice and helps you to gain more confidence in a working environment.

You earn whilst you learn. That's right! No student loans, no tuition fees, and, hopefully, no debt. You'll be paid a salary by your employer, and the government tends to cover the cost of the training for most young people.

Choice. There hundereds and hundreds of different types of apprenticeships. So whether you're hankering after a career in business, sport, marketing, administration, finance or green keeping on a golf course there's something for everyone.

Apprenticeships offer a varied learning experience. You won't have to spend all of your days studying; most of the time you'll be working at a company.
It's all about learning while doing, and learning from others in your industry. You can even gain higher qualifications through apprenticeships, such as HNCs, HNDs, Foundation and Honours Degrees.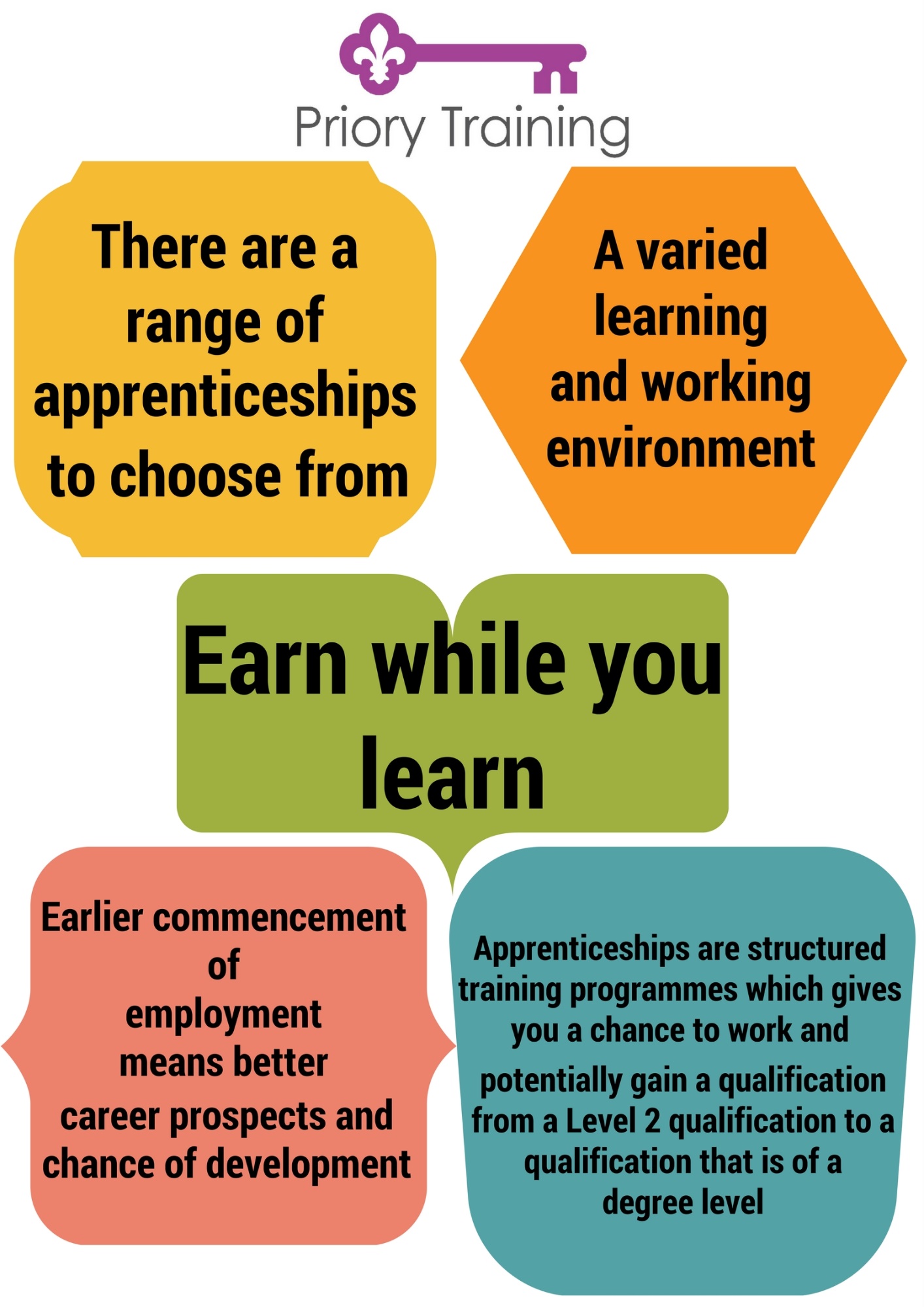 Priory Training work with employers and young people to support both parties with apprenticeships by offering a bespoke recruitment service.
The title "apprentice" doesn't necessarily mean no experience, it is a term used when an individual is on a programme and learning 'on the job' whilst working towards an NVQ and apprenticeship framework.
When an employer recruits an apprentice the minimum apprenticeship wage of £3.50 per hour working between a minimum of 30 hours and a maximum of 40 hours per week. Other than the wage there are no other costs involved as an employer recruiting an apprentice as it is a government funded scheme.
We offer a 'roll on – roll off' programme to allow apprentices to be recruited at any time of the year, however all apprenticeship frameworks are funded for 12 months, therefore the individual must be registered and working on a programme for this length of time.
As part of the support process for employers we will advertise the vacancies on the National Apprenticeship Service, Priory Training and The Priory Federation of Academies websites, hold interviews with the suitable candidates (during which they will also take an online English & maths Assessment), check their eligibility and obtain copies of their academic certificates and CV's. When there is a cohort of suitable candidates CV's are forwarded to the employer who decides which or all of the candidates to interview.
Each apprentice is assigned an Assessor who takes them through the qualification. They are visited every 4 weeks for a maximum of 2 hours by arrangement through the learners supervisor. Evidence of knowledge for units of the qualification is gathered by way of question/answer sessions, observations or through written statements. Work is then set between these visits which usually equates to 1- 1½ hours per week and the Assessor will tailor training to meet the needs of the individual and their specific role.
We offer a wide range apprenticeships including Administration, Teaching Assistants/Student Support Assistants, Finance, Catering, IT and Facilities Management.
Progression after the completion of your apprenticeship could include a job within The Priory Federation of Academies, a higher level apprenticeship or a job within another organisation.