Employers - Why take on an apprentice?
Apprenticeships are work-based training programmes designed around the needs of employers and combine practical experience with theoretical knowledge, helping your staff learn all the skills of the job and gain a nationally recognised qualification.
You can use Apprenticeships to train both new and existing employees.

Apprenticeships are designed by the Sector Skills Councils, while the National Apprenticeship Service (NAS) helps to fund the training. Business representatives from the relevant industry sector work with the Sector Skills Councils to develop the course content as they genuinely understand your business so that the training will be relevant for your industry. Apprenticeships combine practical experience with theoretical knowledge, helping your staff learn all the skills of the job and sometimes, even gain a nationally recognised qualification.

Apprenticeship programmes are a combination of assessment in the workplace and classroom-based learning. They are designed with employers like you in mind, ensuring that the course meets your specific business skills needs.

Apprenticeships can help businesses across all sectors by offering a route to harness fresh new talent. UK businesses consider skills shortages and recruitment difficulties a bigger threat to performance than soaring oil prices and declining consumer spending, and more than a quarter of these rate this form of vocational training higher than any other qualification.

Apprenticeships ensure that your workforce has the practical skills and qualifications your organisation needs now and in the future. The mixture of on - and off-job learning ensures they learn the skills that work best for your business. Over 130,000 workplaces offer Apprentice places because they understand the benefits that Apprentices bring to their business – increased productivity, improved competitiveness and a committed and competent work-force.
How Can Hiring an Apprentice Benefit Your Business?
You can benefit from hiring an apprentice in the following ways: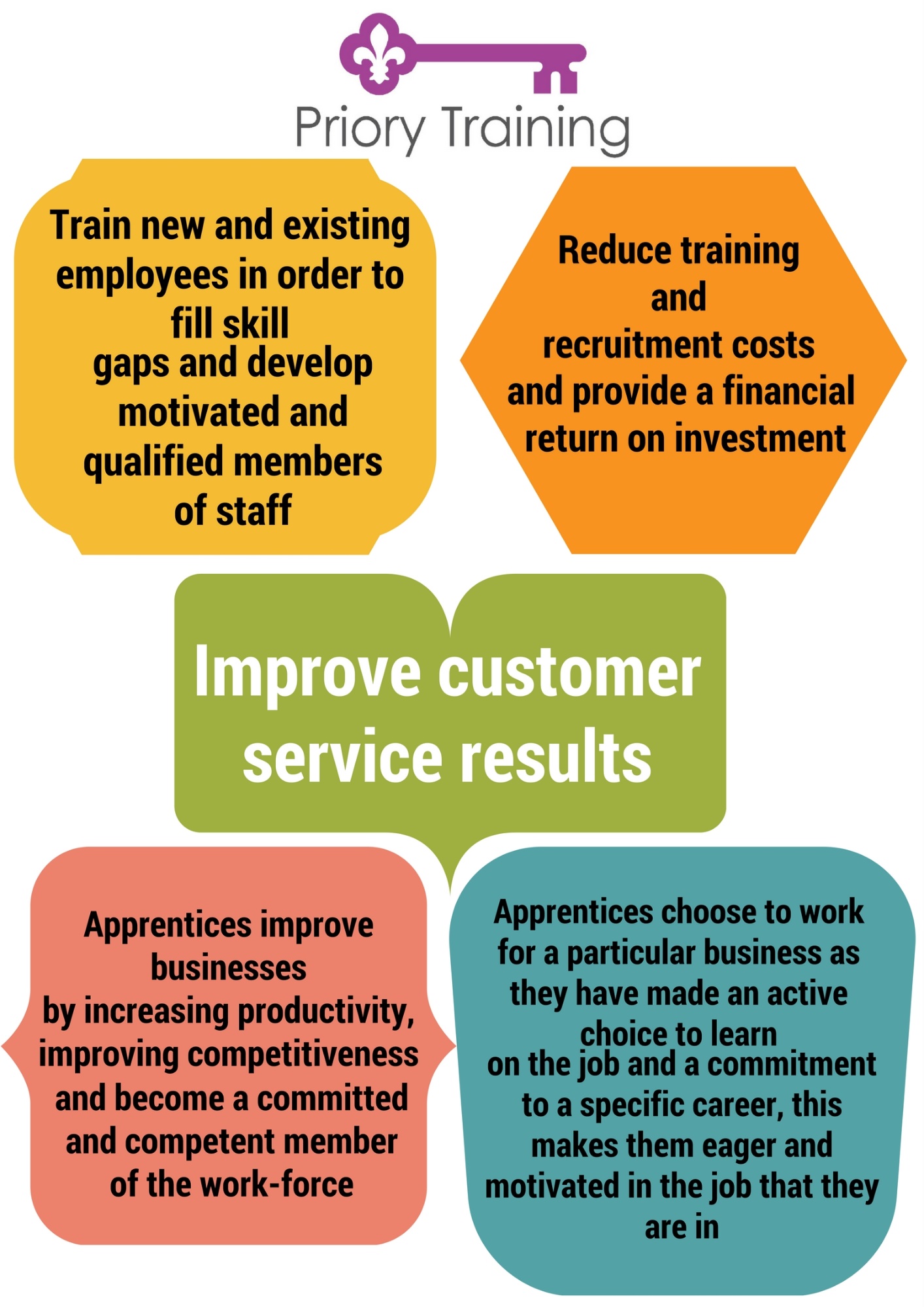 Improve your bottom line
Apprenticeships deliver real returns to your bottom line, with Apprentices helping to improve productivity and to be more competitive. Training Apprentices can also be more cost-effective than hiring skilled staff, leading to lower overall training and recruitment costs.
Fill your skills gaps
Apprenticeships deliver skills designed around your business needs providing the skilled workers you need for the future. They also help you develop the specialist skills you need to keep pace with the latest technology and working practices in your sector.
Motivate your workforce
Apprentices tend to be eager, motivated, flexible and loyal to the company that invested in them. Remember, an Apprentice is with you because they want to be – they have made an active choice to learn on the job and a commitment to a specific career.
Why not get in touch to find out more.