information for Apprentices
Why do an apprenticeship?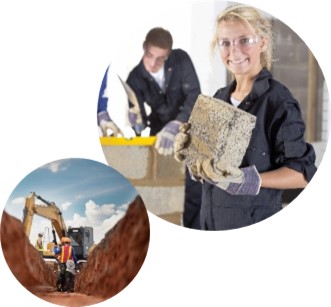 For new apprentices, apprenticeships give you fantastic experience in the working world and show employers that you can 'hit the ground running'. Hands-on training gives you a real chance to put your skills into practice and helps you to gain more confidence in a working environment.
Apprenticeships offer a varied learning experience – they combine some off-the-job training/studying with Priory Apprenticeships, but most of your time will be spent working with your employer, developing practical, on-the-job skills. All apprentices are entitled to a wage whilst they are on programme. As you will be developing your skills with an employer, you will also be gaining relevant and practical work experience, which will undoubtedly improve your career prospects.
There are also absolutely no student loans with an apprenticeship.
What can I expect from an apprenticeship?
As an apprentice, you will be treated like any other employee from your first day on your apprenticeship.
Some of the apprenticeships we offer have set enrolment dates, whilst others offer a 'roll on – roll off' programme to allow apprentices to be recruited at any time of the year. All apprenticeship standards are funded for a minimum of 12 months, therefore your programme will be at least this long.
English and Maths are integral to all apprenticeships and, where applicable, apprentices will be supported to gain these skills. Any English and maths training and study is in addition to the 20% minimum off-the-job training.
As an apprentice, you can expect to be paid a wage. There is an apprenticeship minimum wage for new apprentices, whilst existing members of staff completing an apprenticeship for role development can expect their pay to at least stay the same.
A full time apprentice has a working week of a minimum of 30 hours, and a maximum of 40 hours.
Choosing an apprenticeship
There are hundreds of different types of apprenticeships, spanning different sectors including Business and Administration, Construction, Education and Childcare, and Health and Science.
We understand that deciding on one particular apprenticeship may feel difficult, so we encourage anyone interested in doing an apprenticeship to get in touch with us and find out more.
There are different 'levels' of apprenticeships to be aware of:
| | | |
| --- | --- | --- |
| Name | Level | Equivalent educational level |
| Intermediate | 2 | Equivalent to five good GCSE passes |
| Advanced | 3 | Equivalent to two A-level passes |
| Higher | 4, 5, 6 and 7 | Foundation degree and above |
| Degree | 6 and 7 | Bachelor's or master's degree |
At Priory Apprenticeships, we offer apprenticeship programmes from Level 2 all the way to degree level apprenticeships. You can see our apprenticeships here.
Finding an Apprenticeship
All Priory Apprenticeship vacancies are listed on the National Apprenticeship Service and The Priory Federation of Academies (if a school-based apprenticeship) websites. You can also speak to us directly to talk about any available opportunities we have.
Applying for apprenticeships is typically the same as applying for a new job – entry requirements will be part of the job description and/or job specification, and you are likely to need to have an interview.
Existing employees are more likely to identify an apprenticeship programme that they are interested in for their development, and then speak to their current employer.
Our helpful hints for finding an apprenticeship placement provide you with all the information you need to find that perfect apprenticeship job role.
Personal Development
Running across all of our apprenticeship programmes is a personal development curriculum. This will help you develop wider employability skills, as well as the specific skills required for your job. All apprentices, as part of your programme, will be provided with information, advice and guidance, to support you with your career management, development and planning.
What is an end-point assessment?
An end-point assessment is the final stage of your apprenticeship, and is an impartial assessment to make sure that you have developed the knowledge, skills and behaviours required by your apprenticeship standards. They are designed by employers, so they make sure you have everything you need to enter the world of work.
There are various assessment methods, including:
A practical assessment

An interview

A project

Written and/or multiple choice tests

A presentation
When you do an apprenticeship with Priory Apprenticeships, you will be supported through your end point assessment by your mentor.